This week in Teacher Academy, we had a guest teacher, Nancy Clarke, from the Alabama Reading Initiative (ARI).  Thank you so much Mrs. Clarke for coming to observe classrooms, plan PD, and highlight some best practices for us to implement and try! The framework of our discussion revolved around the power of time management, pacing students throughout a lesson, and scaffolding students.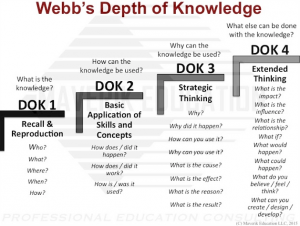 The following highlights are a series of questions/statements to remember while planning future lessons:
We as teachers should plan with Blooms but assess with DOK (Depth of Knowledge)

With our DOK assessments, what type of thinking is required?

Tasks in the classroom should be at the DOK 3 Level because DOK 3 level incorporates DOK Levels 1 and 2.

As teachers, we focus on a lot of things and we try to do everything fast. The tasks we plan should have meaning and rigor.

Planning is extremely important. Planning should encompass areas where we anticipate we would have to scaffold.

We must plan where learning could possibly have a breakdown.

The power of time is invaluable.

The  use of a timer keeps us on track but also the students on track during scaffolding.  It is much easier to Close Read for 6 minutes then it is for 30 minutes.

If your students are having a difficult time turning in assignments, use a timer to help pace their work.  Time management for students is a necessary skill to be College and Career Ready.

For more information on Webb's DOK, click here!
Just a few Teacher Takeaways
Coach Strickland and Mrs. Brown said that their takeaway was starting out her small group lessons with DOK 3 questions then scaffold student learning from that point.

Mr. Studdard and Mr. Gable both stated that their takeaway was the use of a timer.  This would allow them to maintain pressure throughout the lesson and help pace students toward completion of desired tasks.
Sentence Starters were also part of discussion amongst teachers.  Using sentence starters in the classroom allows students to have appropriate content dialog in the classroom. Sentences starters look different in each classroom.  There are millions of different sentence starters to use to frame productive classroom discussions. Share with everyone when you find some that best suits your classroom! Here are a few examples we can use in our classrooms:
Math:  Check Out Page 7
ELA:  Check out Page 3
Social Studies: Check Out Page 10