Small group on the secondary level is unheard of! Today we discussed the "glue" we use to make learning stick in small group! In an effort incorporate what my teachers needed and to differentiate PD, I surveyed the teachers on what they wanted. Three themes emerged from teacher voice and input: Time Management Strategies, Strategies on how to manage the class that are not in small group, and strategies in general to use in small group.
Polling twitter and other peers, we were able to come up with a HUGE list of various strategies that are "go-to" strategies! One of my favorites, are "All Sorts of Sorts". The mere act of sorting various words and phrases helps to get the metacognitive juices flowing in our students. Talking about why an item was sorted, multiple encounters with new vocabulary words or content vocabulary words, asking questions, and modeling think alouds are all part intertwined in "All Sorts of Sorts". In today's teacher academy, we had differentiated instruction at it's finest through this activity. Each session was completely different and highlighted the needs/wants of the teachers present at that time. We had rigorous conversations on various topics. Teachers shared stories, learned some new strategies, and hopefully left with a clearer picture.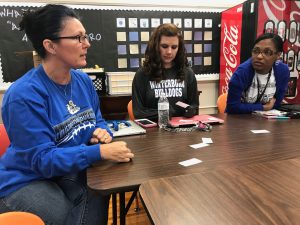 Small group is all about ensuring what students know and how to either fill in the gap or accel them forward! Stay tuned in a for a strategies list of topics covered!