Reflections on Embarrassment- Part 1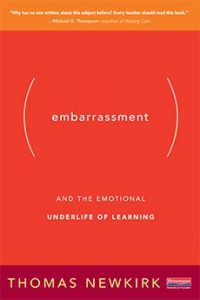 One of my new year's resolutions was not only to read and tweet about what I have been reading but also to blog and reflect on it as well. This first snow day of 2018 has allowed me to begin this journey cuddled up with a new book, (embarrassment) by Thomas Newkirk. The title and why students are easily embarrassed are what attracted me to this book. As teachers, we think students shouldn't care about their "image", but they do….and we secretly do too!  I only started reading it today and just finished the first section of the book.
Embarrassment is a facet of learning. Newkirk states, "If we can take on a topic like embarrassment and shame, we can come to a richer, more honest, more enabling sense of who we are and what we can do". @Winterboro_high we studied the teachings of Eric Jensen this summer and the value that student and teacher relationships play on student achievement. Very simply put, students will not care about content until they know you care about them….GENUINELY. Having relationships be our bedrock this year has been great. We have formed advisories, made connections, etc., but after reading Newkirk's book, one of the next steps to student achievement is to be aware of triggers in class such as the blush or the crackle of a voice. Those triggers can be characteristic of students being embarrassed in class and are potential barriers in the classroom.  Newkirk states, "I am convinced, absolutely convinced, that embarrassment is not only a true enemy of learning but of so many other actions we could take to better ourselves".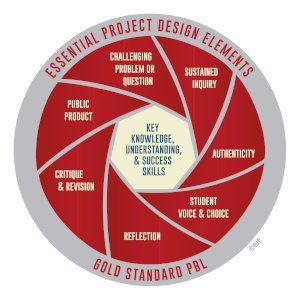 What are ways teachers can help to combat embarrassment in the classroom (other than having strong relationships)? Meet PBL- Project Based Learning. Although Newkirk hasn't explicitly cited this in his book so far, it is heavily implied through tapping into students strengths while in class groups as well as teaching through a variety of modalities from Gardner's Theory of Multiple Intelligences. PBL is a great venue to do this, as it allows students to recognize their current strengths and develop their areas of weakness.
"The very act of writing can also serve as a form of rehearsal". LOVE this quote! Embarrassment can be eliminated by giving students a trial run before open classroom discussions. Students can write about their thoughts or participate in "turn and talks" in the classroom. I am always looking out for new strategies, but often times some of the most effective ones cover so many areas. The turn and talk is widely used, easy to use, and does not discriminate when it comes to content. The turn and talk is one simple strategy that packs a punch!
Section 2 of the book will be coming soon! Hopefully without a series of snow days!