What's a PLD?
Welcome back! We took a hiatus on the Teacher Academy blog over the summer! We wanted to start Teacher Academy off with a bang this year, modeling teaching strategies through small group instruction. Over the course of the next week or so, we will be highlighting the theme of each group. The first theme was the Performance Level Descriptors or PLD for short. These are rubrics published recently by the ACT Aspire.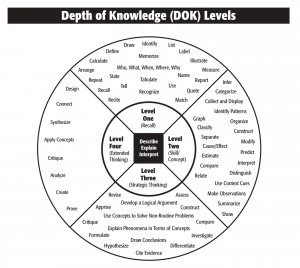 Summative Assessments should not be a secret. The data from Summative Assessments, when coupled with appropriate Formative Assessments, should not be a mystery or a surprise. More times than many, when students take the ACT Aspire, the data can be a surprise. This causes much frustration for teachers under this new assessment model. Each year, the ACT Aspire gives morsels of information to aid teachers and students. Some of the information given is to focus on concepts rather than procedures by using the Webb's Depth of Knowledge Wheel (in particular Levels 2 and 3) and that writing is valued, particularly in constructed responses. Recently the ACT Aspire released the Performance Level Descriptors. You can find them here for each grade tested on the ACT Aspire.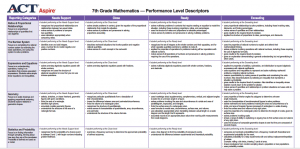 What are the Performance Level Descriptors? This comes straight from the ACT Aspire: "Performance Level Descriptors outline the knowledge, skills, and practices that students performing at any given level achieve in each content area at each grade level. They indicate if the students are academically prepared to engage successfully in further studies in each content area, the next grade's material and, eventually at the high school level to verify that they are college and career ready."
How does the ACT Aspire suggest to use them? This comes straight from the ACT Aspire: "PLDs are essential in setting standards. Standard setting panelists use PLDs to determine the threshold expectations for students to demonstrate the knowledge and skills necessary to attain performance levels of "In Need of Support", "Close", "Ready", and "Exceeding ". PLDs are also used to inform item development, as each test needs questions that distinguish performance all along the continuum.
We encourage the use of the PLDs for a variety of purposes, such as:
Differentiating instruction to maximize individual student outcomes

Completing assessments to help identify target performance levels for individuals or groups of students

Tracking student growth along the proficiency continuum as described by the PLDs."
If you haven't checked out the PLD's, do! I think it is a powerful plan for students and teachers to follow. Students can view the rubrics as a way to hold themselves accountable. Teachers can use the rubrics to develop stronger formative assessments in order to match the summative assessment that students will see at the end of the year.