Data Walk!
The following post is written by Assistant Principal, @GraysonLawrence! He is paving the way in student professional development, called Student Academy!  #Exceptional job Mr. Lawrence!
"Data is not about adding more to your plate. Data is about making sure you have the right thing on your plate." –Unknown
Data can sometimes be a dreaded word as we discuss its relationship to teaching and learning. I must say, this year has been a fantastic year of looking at Data at WHS. Teachers are continually moving kids by creating action plans for their students and developing villages within the school to move students, or as we tend to say "move mountains." This past Friday the faculty at WHS collaborated to discuss Data Walk Through WHS. We were excited to take pictures of Data displayed in our classrooms. We noticed that data is presented in many unique ways, but more importantly the central purpose is for growth.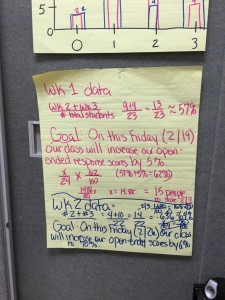 Great discussions were cultivated from the mentor text used at the beginning of the chat. One quote that kept stopping us in our tracks was: "As long as we use assessments/data only as a means to rank schools and students, we will miss their most powerful benefits. We all agree that if we only look at data in such a way it can become frustrating. Should we be the only ones controlling and looking at this analysis? Who else can we coach in the process? Although we continually work to improve student data, another quote from our mentor text sparked more conversations. " The largest untapped source of potential in any school is, undoubtedly, the students." What better way to motivate student growth by simply taking time, just a little time, each day to discuss data with students, and charge them with the idea of self-monitoring for growth. We are in the very beginning stages of developing Student Academy with our students, and if proper collaboration in this process, great things can happen and even change the culture of monitoring student data in our school.
The purpose of Student Academy is for our students to do the following:
Student Professional Development
Student-engaged assessment
Students learn the language of standards
Students set academic goals
Students monitor progress
Students identify patterns of strengths and weakness
Students become self-advocates
Students access their own work with honesty and accuracy
This discussion is the begging of what will become future planning of how students can use their digital portfolios being created in Student Academy to be used as a central location for self-assessment and data monitoring in each class every day. We are excited to see this develop within our school culture so we continue moving mountains fostering in our students being as #exceptional as they can be.